Spotlight: Mohammad Khairuz Zaman
What do you like most about your role as Team Lead PMO?
As NWI's first Project Manager, I have had the opportunity to work with the team to define and set up processes and practices for both the Project Management and Business Development teams. A part of my responsibility also includes supporting and mentoring the NWI team on best practices for the defined processes.
I enjoy the opportunity to work on a wide range of consumer, industrial, IoT, automotive, and medical projects at different product development stages. Every project comes with new opportunities and unique challenges to solve and learn.
Can you describe your journey here at NeuronicWorks?
I became acquainted with NeuronicWorks while working with my previous employer. While there, I had the opportunity to work with Titu, who was the principal electrical design engineer for a multi-year project.
When the project ended, I was looking for new challenges in my professional career and decided to reach out to Titu to see if there is an opportunity to work together again. I was then hired as the first Project Manager at NWI in February 2017. We were a much smaller team back then and my primary tasks were to analyze NWI processes and incorporate PMI practices within the organization.
What drew you to NeuronicWorks originally? And how has the company changed since?
I was impressed by NWI team's attention to detail, work ethic and personality while in my previous role. Titu was my mentor and taught me the practical skills of electrical engineering. When I got the opportunity to work with NeuronicWorks, I gladly took it up knowing it would be a good decision.
After joining the company, I loved working with the young, energetic, and creative team. My colleagues became my friends, and my work became something I love doing.
Over the last six years, the team has grown, and we moved to a much bigger facility, and also opened a second design location to meet growing demands.
Today, we are much more organized with enhanced processes, and access to a lot more tools, equipment and techniques. What hasn't changed though is the creativity and energy of the team.
What have your biggest accomplishments been here at NeuronicWorks? How many projects have you worked on to date?
As our team and number of clients grew, we wanted an effective way to record, analyze and collaborate on project data in real time. This led us to selecting and choosing Smartsheet, a project management platform, that gave us that flexibility.
With the help of the team, I designed and developed a comprehensive system from the ground-up that eventually became the backbone of NWI's PMO and BD process and practices that also supplements the purchasing and payroll activities. This system is today integrated with all teams within the organization and supports our day-to-day operations.
At NWI, over the last 6 years, I have personally managed 92 large and small projects. I have also supported a similar number of projects since I became the PM team lead in 2018.
What was the most challenging project?
It's very hard to select a single project as the 'most challenging project'. In general, designing for highly regulated markets and industries (e.g., medical devices) is quite challenging. As we design a large variety of projects, ranging from single board to multi-layer distributed systems, every project has its own set of challenges and risks. Projects without a defined scope of work are the most challenging in general. In the process of designing a new product the risk of something going wrong is very high. We try our best to work with the clients to understand their business needs and recommend solutions. In any case, if a requirement is missed or misunderstood (i.e., medical device, safety requirement) that can change the overall product design direction and can make any project challenging.
What's your favorite part of working at NeuronicWorks?
We learn something new almost every day.
I love working with a talented team of engineers, designers, technicians, and office staff. Every neuron goes above and beyond to make sure the tasks are done properly, and projects can be delivered on time.
I love and cherish the opportunity to learn new things almost every day. Every project has taught me a new technology or creative solutions. Working with our customers and making their dream come true makes my work meaningful.
What advice would you provide to someone interested in Technical Project Management? What would you tell someone who is joining the company for the first time?
Anyone who wants to work and be successful at NWI needs to have a 'can do' mentality. A technical PM should be optimistic and should listen to his/her team and stakeholders actively.
NWI focuses on its team and provides training and learning opportunities to everyone. We have regular training sessions to keep the team informed about upcoming technologies. We bring new ideas to life and do minimum repetitive work. We work together as a team; we face challenges and find solutions to those problems as a team. We learn from each other and share our findings/learnings.
How/Where do you see yourself in the next couple of years?
I would love to grow the technical team over the next few years. Some of my personal goals include:
Try new ideas, keep researching, dig around and read resources for inspiration. As a hardware designer, we have the fantastic opportunity to learn, try and implement something new and unique.
1. Achieving additional related professional trainings and/or certifications (PgMP, QMS Lead Auditor)
2. Gain more understanding about industry requirements (i.e., UL, FCC, CE)
3. Help with the implementation and management of our new ERP system
4. Last but not least, learn to become a better leader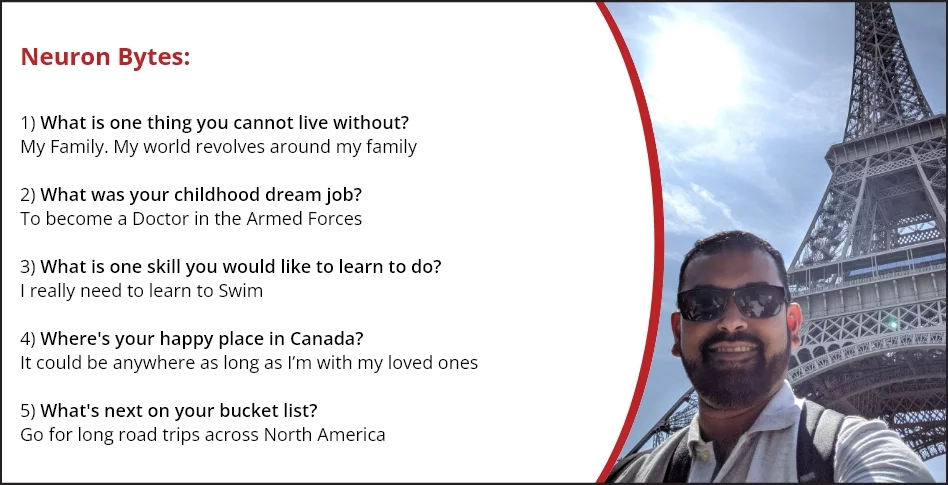 ---
Interested in interacting with Mohammad Khairuz Zaman? Reach out to him or other members of our team today.
All Blogs